About the Firm
Chris Griswold, P.C. was established in 2001 by Chris Griswold with the desire to provide top-notch legal services to the commercial real estate, energy and business communities.  Chris has acted as corporate counsel for Fortune 500 companies including, among others, Pier One Imports, J.C. Penney Corporation, and Which? Wich Franchise, Inc.  He has spent the majority of his career performing major commercial transaction work.
Chris Griswold, P.C. strives to provide outstanding legal representation to all clients whether individuals or corporate entities.  Moreover, Chris has extensive experience in communicating with large corporations and their boards and officers to achieve desired results while serving clients in the area of general corporate law.  At Chris Griswold, P.C., providing legal expertise with honesty, integrity, constant communication and respect is paramount while acting in the client's best interest(s).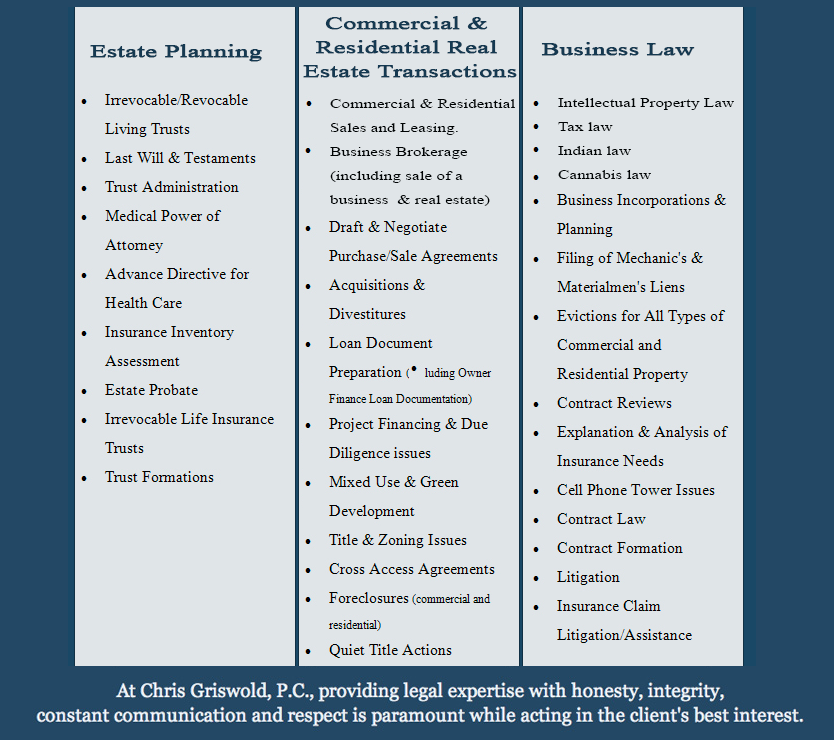 What My Clients Are Saying:
"Chris provided me not just excellent legal services, but great advice and insight on a particular business opportunity I was considering. Ultimately, I chose to pass on the deal, a decision informed by Chris' experience and wisdom. I am grateful to have had his council during that important time of deliberation."
Clay Cockrill / SiteAware / Director of Business Development / Oklahoma City, OK
"I met Chris when he was starting his career and I was starting my career in the commercial real estate industry. We have stayed in touch over the years and when it came time to construct a family trust my first thought was to call Chris. The process was seamless with confidence it was being constructed with the upmost professionalism and expertise in the field. In addition, when a client needs a recommendation for legal work Chris is always a great referral knowing he will take great care of them."
Michael Raff / Commercial Estate Advisor / Wiggin Properties, LLC / OKC, OK
"I have referred several customers to Chris for legal advice and services involving real estate. He has treated them with the utmost professionalism and contributed to the success of my customers. He is one I can recommend with complete confidence."
Derek Briggs / Vice President / Quail Creek Bank / Oklahoma City, Oklahoma
"I have known Chris since he started his law practice, and have worked closely with him over the last 15 years. During that time I have used him personally for a number of legal matters, and I've referred him to clients and business associates alike. In my countless interactions with Chris, his level of professionalism and expertise in any legal matter (from Trust work to complex Commercial Real Estate transactions) brought before him had consistently exceeded my expectations."
Brent W. Conway / Senior Vice President / Newmark Levy Strange Beffort / Oklahoma City, Oklahoma
"Chris Griswold is a good business attorney whom I've used often and much through the years, for both my business and personal needs, and whom I'd gladly refer to anyone.  He's creative, prompt, eager to help and very competent.  He's good at what he does, he has fun doing it, and it shows up in his work through his good problem solving skills.  I look forward to a continued relationship with Chris."
Edward F. Wells / President, Wells Nelson & Associates / Oklahoma City, Oklahoma
"Chris is a business-minded attorney who negotiates with the client's goals in mind.  He is a knowledgeable and constructive participant in deal negotiations… loyal to his clients but practical in his approach."
Bond Payne, Jr. / Chairman of the Board and CEO, Heritage Trust Company / Oklahoma City, Oklahoma
"Chris is a competent, hardworking attorney.  Chris is always there when you need him and you don't have to wait a day to get a returned phone call.  He does what he says he is going to do in a timely manner.  He has the expertise to make problems simpler which makes them easier to solve.  He is honest, consistent and reliable.  He loves what he does and is active in the community."
David Ostrowe / Owner, O & M Restaurant Group, Inc. / Oklahoma City, Oklahoma
"I have worked with Chris Griswold on several real estate related legal issues in recent months, and I've been very impressed with his suggestions and efforts.  I can recommend him wholeheartedly."
Carl Edwards / Partner, Price Edwards & Company / Oklahoma City, Oklahoma
"I have found Chris to be a highly creative attorney who regularly thinks outside the box and has the empathy to ask the questions that the client may not know to ask."
Bart Binning / Broker, Prudential Alliance Realty / Oklahoma City, Oklahoma
"Chris is always there when you need him and you don't have to wait a day to get a returned phone call.  He does what he says he is going to do in a timely manner.  He has the expertise to make problems simpler which makes them easier to solve.  He is honest, consistent and reliable.  He loves what he does and is active in the community."
Randy Lacey / Broker, Newmark Grubb Levy Strange Beffort / Oklahoma City, Oklahoma
"Chris works hard, is extremely talented and very knowledgeable when it comes to commercial real estate transactions.  But most of all, he has a personal approach to every deal and genuinely cares about the best interests of his clients."
Paul Stuke / Director of Business Development, Stewart Abstract & Title Co. / Oklahoma City, Oklahoma
"Chris has proven to have knowledge and experience in the real estate business as it relates to contracts.  He is very responsive and understands your time frame and importance on the deal."
Robin O'Grady / Principal / Managing Broker, Caliber Property Group / Oklahoma City, Oklahoma
"Chris is a knowledgeable, experienced attorney in his field.  He has provided invaluable support to our organization.  He has a philanthropic mindset.  His honesty and integrity set him apart."
Glenda Palomino / Estate & Legacy Manager, Salvation Army – Central Command / Oklahoma City, Oklahoma
"I can't say enough good things about Chris Griswold and his firm.  He jumped in and tactfully assisted me in navigating a hostile easement issue with the City.   Based upon Chris, we were successful in negotiating a fair settlement in a very timely manner.  I would highly recommend Chris Griswold to anyone and I plan on using him again in the future."
David Ostrowe / Principal & Owner, O&M Restaurant Group / Oklahoma City, Oklahoma
"Jeff forwarded your e-mail to me and we want to say — Thank You!  You have given us a lot of answers and peace of mind.  I'm sure we will both sleep much better tonight.  In my first job after high school, I was a legal secretary.  Then I became a paralegal (I'm talkin' DECADES ago, but. . ..) I've spent probably 15+ years in civil practice law offices.  But I have to tell you that the way you handled our appointment today was some of the best representation I've seen!  And, rest assured, Jeff will NEVER sign another document without your review."
Jeff & Carol Maahs / Principals & Owners, Foods Co. / Granbury, Texas
"Chris Griswold has been a tremendous asset in making my dream a reality! His legal advice, strong business acumen and initiative in helping me find the answers got me started on the right track. His honesty, common sense and strong interest in helping me succeed was a welcome addition in finding the right partner for legal advice and direction. I look forward to working with him again in the future."
Margaret Holloway / Partner, Café 501 and Boulevard Steakhouse; President, Senior Care Network / Oklahoma City, Oklahoma
"Chris recently assisted me with a transaction involving the disposition of a business I owned.  While I deal with contracts on a daily basis and actually consider it to be one of my strong suits, this was definitely a transaction where I felt I needed expertise and oversight not only for the current transaction but for the commitments and potential obligations I could likely be exposed to subsequent to the transaction.  Chris was instrumental in ensuring I was adequately protected but also without causing strife with the other party. I can definitely recommend Chris Griswold, P.C. to anyone needing assistance with a complex business transaction."
Casey Massegee, CCIM / The Grant Group / Edmond, Oklahoma
"I have been extremely pleased with the legal services provided by Chris.  He is an expert on real estate issues; devotes immediate attention to our needs and follows through with all required action.  I look forward to a continuing relationship with Chris."
Harrison Levy / President / Grubb & Ellis I Levy Beffort / Oklahoma City, Oklahoma
"Chris Griswold, P.C. has been an invaluable part of my real estate management team.  His knowledge of contracts and commercial real estate law has been priceless.  Without question, his candidness and attention to contractual details has kept us on track and has been key in preventing potential pitfalls and financial losses.  He has been the key man, instrumental in navigating us through the commercial real estate market."
Dr. Bo Sofola / Urologist / Ardmore, Oklahoma
"Chris Griswold is the answer man.  When I have real estate questions, Chris is quick to reply with solutions and advice that is right on target.  I can always trust my clients to Chris' care knowing he will treat them with courtesy and integrity."
Darryl Meason / Broker Associate / NAI Sullivan Group / Oklahoma City, Oklahoma
"Chris is a crucial extension of my company for any and all legal aspects of my business.  He always keeps my best interests in mind when preparing and executing legal and business documents.  By having an honest attorney with great integrity like Chris, I can better focus on my company's business operations and take comfort in knowing that he's able to handle any legal situation."
Brant Seaton / Owner / Red Rock Foods, LLC / Haltom City, Texas
"I have used Chris for matters relating to both my own personal neighborhood association and for business transactions at work.  He is always very prompt and easy to reach.  He gets me what I need when I need it and does quality work.  I would highly recommend him."
Chris Moxley / V.P. of Operations / Professional Insurors Agency, LLC / Oklahoma City, Oklahoma
"Chris Griswold was instrumental in negotiating a very solid, long-term lease for our new bank branch in Oklahoma City.  His industry knowledge helped us avoid several potential pitfalls with a landlord that was somewhat difficult at times.  It was a pleasure to work with Chris because of his professional style and easy going demeanor."
Charlie Crouse / President / Summit Bank / Oklahoma City, Oklahoma
"Chris has worked on several projects for both me and my clients over the last several years including building acquisitions, preparation of new business documents and lease transactions.  I have found that he is very dependable on the turnaround of document preparation and the pricing he has given me is more than fair for the excellent work he performs.  Chris' extensive knowledge in real estate and business transactions has been a valuable asset to me as a small business owner."
Renee Reneau / Owner / Reneau Properties, LLC / Edmond, Oklahoma
"I would certainly like to commend Chris for his efforts is a recent transaction and for keeping communications with distant legal departments of large companies informed and involved as regarding the negotiations.  Chris Griswold has been a real asset in bringing together people and has the ability to center the focus on the transaction and that is really needed in today's commercial real estate market.  Even though we may be experienced and seasoned veterans of commercial real estate, it's good to have qualified, energetic, and capable legal support ready to move the process along at the faster rate we need today.  My thanks to Chris for his efforts in this most recent transaction."
Irmon Gray / Broker / NAI Sullivan Group / Oklahoma City, Oklahoma
"It has been a pleasure working with Mr. Griswold. He knows the commercial real estate business well and has been an integral element in our deal making process on some very key transactions."
Kris Davis /  Industrial and Investment Advisor / Grubb & Ellis | LevyBeffort / Oklahoma City, Oklahoma
"Chris Griswold has a unique skill set for a Real Estate attorney.  He is equally adept in the courthouse as well as in a transactional setting.   We have worked with him in lease negotiations where we found him to be pragmatic and fair minded while representing his client.  As result of working on the other side of the table with Chris, we engaged him to assist us with various lease enforcement issues.  We have used many attorneys to assist us with FED's, collections etc. and Chris has by far been the most efficient and cost effective counsel we have ever used."
Jeff Norman /  President / JAH Realty, L.P. / Oklahoma City, Oklahoma
"Chris Griswold has a way of simplifying complex legal issues.  He is quick to respond, efficient and professional in his delivery of services and fair and up front with his cost.  Professional Insurors considers Chris an asset to both our business and our clients.  Our trust in Chris grows each and every time we call upon his expertise."
Kelly Miller / President / Professional Insurors Agency, LLC / Oklahoma City, Oklahoma
"I was referred to Chris from a friend of mine who has used him for years. I have 23 offices nationwide and tons of legal items that I don't have time to deal with myself (nor would I trust just any attorney).  What a blessing to find Chris…. Here is someone I know will get it done right, day or night.  Chris' good legal services free me up to run the day to day operations of my business with the peace of mind that the legal details are covered; all at an honest, fair price.  Thanks Chris!"
James Gray / President & CEO / Full Circle Financial Group / Oklahoma City, Oklahoma

"Just a note to let you know how much I have appreciated your help in the past with lease preparation and certain lease particulars that the lay person may sometimes not be familiar with. You have demonstrated a good balance of getting past certain points of law that when considering the lease in its entirety, have a tendency to slow the deal process. As I continue to do more business with larger companies, especially public companies, your knowledge of what is relevant and what is not is of great benefit. I also value you not interjecting yourself in the business points of a transaction except when appropriate. I trust that we will be doing business together for many years to come."
Mark Ruffin, Precor/Ruffin / Oklahoma City, Oklahoma
"I want to reiterate how grateful we are for your continued guidance and professionalism.  Your commanding ability and communications skills are a true virtue and a great asset to our company.  Having you in our corner has given us great peace of mind heading into the future.  Thank you for everything."
Kris Garcia, Which Wich Franchisee / Dallas, Texas
"I take special care when selecting business partners to represent my company and look for those who exhibit the same levels of professionalism and integrity that I try to achieve.  Chris Griswold definitely meets these requirements and is considered a very valuable member of the JOBO Properties team.  I have no hesitation in recommending Mr. Griswold to handle your business and commercial real estate transactions."
Darren Ford / Owner & Developer of JOBO Properties, L.L.C. / Oklahoma City, Oklahoma
"We have worked with Chris Griswold in negotiating all aspects of our lease agreements and highly recommend his work.  He has always been diligent, thorough, quick and effective.  Additionally, he has a keen understanding of the truly critical aspects of leases and how best to address them."
Scott Osuna, Which Wich Franchisee / Dallas, Texas
"I recently had Chris Griswold serve as my attorney during lease negotiations for my second project.  Chris did a great job.  Among other things, he reviewed the lease document thoroughly to ensure that my best interests were covered.  The best part of working with Chris is that he takes the time to explain everything to you.  I will be using Chris for my next lease review."
Chad Todd, Which Wich Franchisee / Columbia, South Carolina
"I spent a month in the hospital following a near-death motorcycle accident. It was a wake-up call for me; I hadn't planned for the worst….  Chris Griswold quickly drafted the proper trust documents with special consideration for my particular circumstances and wishes. I really appreciated his patience and knowledge of how the law affected my situation.  Without Chris' help, my family could have been left with some tough decisions (or no decisions at all) about how my estate would be distributed (or how to deal with health situations).  I still ride motorcycles but now I sleep much better. Thanks Chris!"
Heath Brown / Mustang, OK
"Chris' knowledge and experience with trusts, estates and wills helped us avoid the common pitfalls of estate planning.  Papers were signed and ready within a week.  We are very pleased."
Charles and Nancy Freeman / Edmond, OK
"Thank you Chris for being so accommodating with my time schedule during my trust creation process.  You eliminated all my anxiety concerning the implementation of my wishes.  You answered my questions thoroughly and provided professional and sincere recommendations throughout the process.  I am very pleased with your expertise and would enjoy working with you again."
Valetta Bentley / Rush Springs, OK
"My wife Heather and I could not be more satisfied with the comprehensive estate planning solutions that attorney Chris Griswold developed for our family.  As the parents of young children, we had several questions about how to structure our estate – including the guardianship of our children in the event of our sudden deaths.  We now have peace of mind thanks to the expertise and careful approach of attorney Chris Griswold.  Thanks Chris!"
Richard & Heather Collins / Luther, OK
"Chris, I want to say thank you for your help in getting my LLC and operating agreement set up the right way. As someone that first went to a popular online, legal site to set things up, only to spend more money fixing it after the fact, I can speak first hand to the importance of setting up a company the right way, the first time. With your help, I was able to get things corrected and set up quickly and cost effectively. You were always candid and set expectations accurately. Thank you for all your help. I'm grateful I was referred to you by a friend and more than happy to refer you to anyone looking for legal counsel. I have been, and will continue to be, happy to work with you on all our legal needs."
Ray Green / Owner & Manager / Rayker Holdings, LLC / Corinth, Texas
"Chris Griswold has always been proactive and professional.  He takes the time to work with us and tailors his approach to our situational needs.  My favorite thing about Chris is that he will let me know if there is an easier, less-expensive approach.  We look forward to working with him well into the future."
Carl S. Milam / President / Western Concepts Restaurant Group / Oklahoma City, Oklahoma
"Starting my own business presented many obstacles and uncertainties.  I was fortunate and blessed to have my real estate broker recommend Chris Griswold as a resource for my lease reviews and negotiations.  Chris addressed all my questions and concerns with unyielding patience and guidance and helped me secure a strong and favorable lease.  Chris you are an exceptional resource and even better friend….  Thanks for all your help with this first location.  I look forward to working with you on the next one."
Chris Lucas / Owner / KoKo Fitclub / Edmond, Oklahoma
"WhichWich? is experiencing tremendous growth and we feel fortunate to have Chris Griswold, P.C. as our lead Real Estate Attorney during this time of expansion.  His knowledge, professionalism, tenacity, integrity and drive has given our brand an edge over our competition when securing premier locations throughout the country.  He continues to make our needs a priority and we look forward to working with him for many years to come."
Jeff Vickers / Director of Development / Which?Which / Dallas, Texas
"Chris Griswold did a fantastic job handling my first lease negotiation.  Chris kept the process moving and he kept me up to date on all the changes and nuances as we progressed towards lease execution.  Working with Chris has been a delight and I look forward to working with him on all future projects."
Ted Barringer / Which?Wich Franchisee / Raleigh, North Carolina
"It is with pleasure that I recommend attorney Chris Griswold for all areas of your business where legal advice and having someone to look out for your best interests is needed.  Chris is very through and efficient in reviewing our lease documents.  There were many things in reviewing our documents that Chris discovered that at some point in the future would hamper our business.  Having someone to view things with a sense of ownership (as we all would like to see) is rare today.  I appreciate Chris Griswold and I believe you will as well."
Robbie Moon / Which?Wich Franchisee / Asheville, North Carolina
"Chris was referred to me and I will gladly refer again.  He was quick to engage and provide a solution that fit nicely.  I'm thankful to have found a new addition to my team."
Brian Morse / Entrepreneur / Fort Worth, Texas

"Chris Griswold has provided the American Nurse Practitioner Foundation with specific and timely legal expertise. We feel like he is part of our internal team. This year we needed legal advise that was crucial to our business both now and for our future. He understood our goals completely. I enthusiastically recommend his services."
Margaret Crump, MPH / Chief Operations Officer, American Nurse Practitioner Foundation / Austin, Texas
"Mr. Griswold was recommended highly to us when we were in need of attorney services. I am pleased to say that he has met our needs very well and I would recommend his services to anyone in need of them."
Evelyn Slothower / Small Business Owner / Oklahoma City, Oklahoma
"Chris Griswold is an attorney that will find reasonable solutions in an economical manner to fit my clients' best interests. My growth of knowledge of the legal system and use thereof for my clients can be contributed in a large part because of Chris Griswold's personal willingness to educate and strengthen my knowledge on the laws. Good results from a good law practitioner like Chris are always best."
John W. Meek, RPA / Owner, First Commercial Management, Inc. / Oklahoma City, Oklahoma
"Chris is a sophisticated businessman as well as a skilled attorney who proffers sound advice from the legal perspective before addressing the practicalities of implementing any legal strategy. He is an excellent sounding board, and our "go-to guy" in Oklahoma as his work with Landlords as well as Tenants gives him that seldom found insight into how the law works in practice as opposed to just theory."
Seth Grubstein / Partner, TRIA Ventures / Dallas, Texas
"I have known Chris Griswold for many years and have used his services both personally and professionally. It has always been a pleasure working with Chris. I find him very competent while he works hard to find solutions to complex situations. His responsiveness and attention to detail is above all. I will continue to referred Chris to my clients and will continue to personally use his services as well. Thank you Chris for the great work you've done."
Linda Glass / Vice President, Banc First / Oklahoma City, Oklahoma
"I have been very pleased with Chris's legal work on real estate matters. He gets a project completed when he says it is going to be completed. He is a real estate law expert. I not only use him for our own legal work, but have referred him to several of our customers as well and they too have been pleased with the attention and follow through he devotes to their projects."
J.R. "Bud" Fulton, SIOR, CCIM / President, J.R. Fulton & Associates / Oklahoma City, Oklahoma
"Chris Griswold is very detailed and takes excellent care of his clients. You can expect the best from him on any matter!"
Janie Cotton / Commercial Escrow Officer, First American Title Company / Oklahoma City, Oklahoma
"Chris, thank you for all of the help you gave my partner and I in setting up our formation and related documents. Your service was super-fast and accurate on the first time. You are much appreciated J Thank you!"
Ginger Sloan / CEO, Encore Professional Medical Services, LLC / Oklahoma City, Oklahoma
Education:
Texas Tech University (B.B.A. 1996); University of Oklahoma (J.D. 1999).  In law school, Chris was Managing Editor of the American Indian Law Review and the 10th Circuit Regional Representative for the Law Student Division of the American Bar Association.
Admissions/Membership: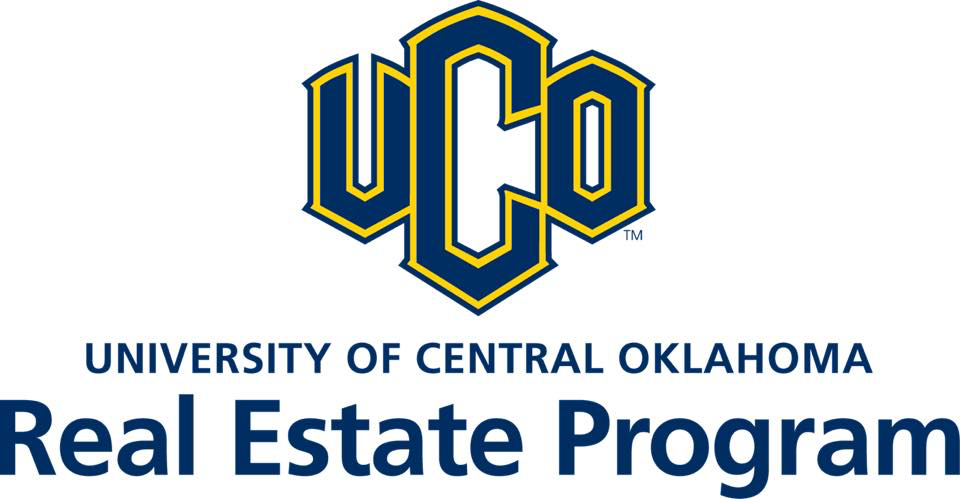 Adjunct Professor of Real Estate Law at the University of Central Oklahoma
2016 President – Commercial Real Estate Council of Oklahoma City (CREC OKC)
Active Board Member of and Legal Advisor to the Oklahoma Sheriff's & Peace Officer's Association
Active Member, OKCRPLA (Oklahoma City Real Property Lawyers Association)
Board Member, CRECOKC (Commercial Real Estate Council of Oklahoma City)
Board of Advisors, Oklahoma City Chamber of Commerce
Member of the Oklahoma, Texas and American Bar Associations
Licensed in all Oklahoma and Texas state courts
Active member of the Arkansas Oklahoma Salvation Army Central Oklahoma Planned Giving Work Group
Member of the Commercial Real Estate Council of Oklahoma City
Member of the Oklahoma CCIM Chapter
Member of the OKCMAR REALTORS Commercial Alliance
Member of the Oklahoma Renewable Energy Council
Member of the Urban Land Institute.
OKC OFFICE
12101 N. Meridian Avenue
Oklahoma City, OK 73120
405.229.7595 (Oklahoma Office)
DALLAS OFFICE
6505 West Park Blvd.
Suite 306-113
Plano, TX 75093
972.955.0453 (Texas Office)
[email protected]
"Getting Your Deal Done"